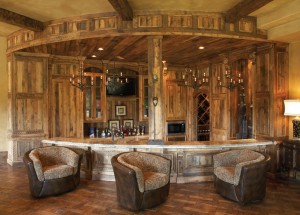 There aren't many simple home upgrades that leave a lasting impression like installing a custom home bar. A home bar is a simple way to add value to your home and only one of a few home improvements that see a consistent return on investment. If you are considering home bar ideas, think about installing a home bar in your basement or patio. It will not only add value to your home but also create a great space for the whole family to enjoy and entertain.
When considering a custom home bar and home bar ideas often times people only consider the home bar as a place for adults. However, this doesn't have to be the case. Home bars are also a great place for your children and teenagers to hang out and entertain as well. The bar area is a great place for storing beverages, snacks and kitchen utensils. By creating a convenient and easy to use space in your basement or patio to store all your party necessities it will make entertaining more pleasurable and convenient. Also, a designated bar area will provide a fun environment and space that will leave the rest of the house quiet, relaxing and undisturbed.
Custom home bars are great, but before you build your home bar consider the following home bar ideas and tips. Proper planning beforehand will ensure you design a bar that is highly functional and looks great as well.
Wet Bar – If you want the following conveniences such as a refrigerator, sink and dishwasher you will need to build a wet bar. A wet bar requires a home bar that utilizes running water and plumbing for a sink and appliances. Altering plumbing and water lines can be expensive. In order to reduce costs consider the layout and design of the bar to revolve around the most easily accessible plumbing hook-ups and features. There are numerous home bar ideas online that have creative solutions for designing a home bar around your plumbing needs.
Durability and Design – Choose features that will be durable and functional. Remember, you don't want to choose materials that you will always be worried about damaging and cleaning. Also, you want people to hang out at your bar – make it comfortable. One great way to do that is by choosing comfortable bar rail and stools to outline the bar top. Proper bar materials and layout will ensure convenience and comfort.
Atmosphere and Environment – Consider a wide variety of home bar ideas and take your favorite features from each one to create your home bar. You are the only one who knows the ambiance and style you are trying to achieve. A couple of ways to create a distinctive and unique ambiance for your bar is by installing custom bar rail, custom molding and custom lighting features. The bar rail and molding will highlight the bars features and give it a rich sense of character. Then the lighting will give you the ability to highlight those rich character features as well as change the mood and environment of the bar. When designing your home bar consider a wide variety of home bar ideas to give your home bar that custom feel.