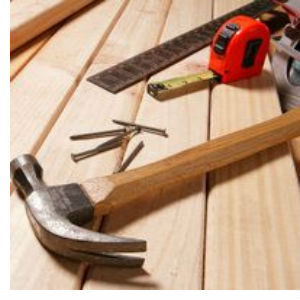 Everybody has their favorite establishment where they enjoy spending time with friends while consuming a few libations. This is a time-honored tradition that is woven into the very fabric of our culture, whether it is after work or on the weekend. However, even the best establishments have limitations as to what they can offer. Putting together your own home bar plans and building your own custom home bar might be the very solution to having an entertaining evening without having to deal with a large crowd or expensive drink prices.
If the benefit of a home bar is something that interests you there are a few things to remember throughout the process. Building a custom home bar can be as complicated or as simple as you make it. However, when you break it down there are really three key components that must be addressed – the layout and location of the bar, the materials you will use and who will complete the installation.
Layout and Location
The physical layout and the location of the bar are extremely important. Choosing a space and the proper layout of a bar can often times be difficult. You will want to choose a room where you feel comfortable entertaining company and a space that will be conducive to creating your intended atmosphere. If entertaining company is your main objective then a basement bar with extended bar top space might be the best option. On the other hand, if you want a space to grab a quick drink for a few guests then a custom wet bar in the corner might work as well. The best solution is the one that works for you. Create a list of your objectives and then review various bar plans and layouts until you find one that you love. Numerous home bar plans can be found online or Rino's can assist by showing you some of the custom home bars they have created.
Materials
After you choose the location and layout the next step will be to choose the materials and amenities that you will want. Some of the basic bar elements include different types of wood to create the majority of the bar, the bar top itself, molding and finishings, and finally accessories – stools, glassware, sink, and refrigerator(s). The most important thing is to choose materials that you enjoy and suit your own unique style. If all these items are chosen correctly then the bar can be a showpiece for your home and ultimately add value to the home. One-way to really make the bar stand out, relatively inexpensively, is to add molding and custom bar rail. This will give the bar a custom look and truly give it a visual presence.
Installation
Finally, you have chosen the location/layout and chosen all your materials. The only thing left to do is physically build your own custom home bar. The last decision to be made is whether you want to complete the project yourself or contract the work out. If you are a weekend warrior who will be tackling the project yourself you should considered prefabricated options such as custom bar rail. Rino's can create custom bar rail and moldings that only need to be installed. This will help you save time and ensure a quality outcome. However, if your weekends are booked Rino's also has a team of experienced craftsman who can help you create the perfect home bar as well. Regardless the size or type of custom home bar you decide to build you can be assured that you will appreciate the overall investment.