As a result o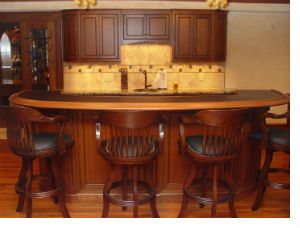 f the current economic climate, bars and popular waterholes are starting to see a reduction in the amount of time and money their customers spend at their establishments. This is due in large part to the decreased amount of discretionary funds that patrons have or are willing to spend on their favorite cocktails. As a result you are starting to see a resurgence and increased popularity in custom home bars. Home bars provide a wide range of both social and financial benefits, as well as the potential to provide added value to your home.
If you are still unsure if a custom home bar is right for you consider the following questions. Do you find that your home is the popular gathering place for your friends and family? Is entertaining company and throwing parties something that you find enjoyable? Finally, when you entertain friends and family do you find your kitchen and dining room to be cluttered with cups and bottles during your party? If so then a custom home bar might be the perfect addition for you.
One of the biggest myths about custom home bars is that they are expensive to build. There are tricks you can use to make your bar or serving area look expensive and elegant without breaking the bank. One of those tricks is adding custom finishes such as custom bar rail or custom molding. By using these types of finishes it will create the feeling of a realistic bar and styling that looks expensive. The finishes will also define the space by creating an interesting conversation piece as well as catch a buyer's eye if you choose to sell your home. Custom finishes such as bar rail and molding don't have to be expensive, but if chosen wisely they can definitely create that feeling and look.
If you are still unconvinced of the benefits of a custom home bar then hopefully the following reasons will persuade you.
Your guests will feel comfortable - A dedicated space for entertainment will set your guests at ease and make them feel welcome. It will give them a place to congregate and mingle while creating a comfortable environment that encourages interaction.
Convenience and organization – A home bar creates a place for you to store all of your liquors, drink mixers and bar accessories. Everything will be in a convenient location where cleanup and serving is much simpler. Also, the bar is great place to showcase your favorite spirits or showcase your own unique style.
Discounted drinks – Drinks at your favorite establishment are often times expensive. If you stock your own bar you won't have to pay for drinks with highly inflated prices. Over time the cost savings you establish from not going out will ultimately pay for the bar.
Add value to your home – Everybody is looking for a house with a great space to entertain. A custom home bar is the perfect way to remind potential buyers of the added value that your bar provides to your home.
Rino's Woodworking can help you realize your custom home bar dreams with expert advise and quality craftsmanship.  Whether you're updating your current bar or planning the customer home bar of your dreams, contact Rino's Woodworking Shop today.