Rino's Woodworking is a local leader in custom hardwood interior design. Many prominent homes, businesses and city buildings have sought out Rino's unique style and quality craftsmanship to enhance their architectural motifs. Builders throughout the world have turned to Rino's Woodworking to offer their customers high-quality wood moldings and cabinetry for their construction projects. We are proud to offer our exclusive line of moldings online, allowing both contractors and "do-it-your-selfers" the ability to order wood moldings self-serve.
Company Overview
Rino's Woodworking Shop, Inc. pledges that no matter the size of your project, two cabinets or 50,000 linear feet of custom hardwood molding, you will receive the same superior level of pride, flexibility, craftsmanship and attention to detail. Our specialties include custom cabinets, hardwood moldings, S4S lumber, chair rail, crown, base board, bar rail, hand rail, counter tops, turnings, finishing, and installation. There are no limits; if you can dream it, we will build it.
Our state-of-the-art millwork facility is located in Willoughby, Ohio just minutes from downtown Cleveland. With easy access from Route 2, Interstate 90 and Interstate 271, our showroom is available for your convenience.
A History Steeped in Culture
From humble beginnings to today's major production facility, Rino's Woodworking has always been a family business. Founded in 1982 by Rino Ritosa, Rino was inspired to build custom hardwood cabinets and fixtures in the European style he grew up with in his home village in Croatia. Word of his attention to quality and detail, combined with his ability to create both artistic and functional work, quickly spread. His work is proudly displayed in the homes of senators and dignitaries, and spread internationally to homes of royalty, in such countries as Saudi Arabia and the United Arab Emirates.
As the business grew, so did the need for more space. With his wife, Alda, and son, Dan, they opened the doors to their current headquarters in 1995.
Showroom and Office Hours
Our staff is available to assist you 6 days a week.
Monday: 7:30am - 4:00pm
Tuesday: 7:30am - 4:00pm
Wednesday: 7:30am - 4:00pm
Thursday: 7:30am - 4:00pm
Friday: 7:30am - 4:00pm
Saturday: 8:00am - Noon
Our showroom is full of exciting ideas for your home. We will personally sit down with you and help you create a work of art that fits your budget and style. If you live in Northeastern Ohio, we invite you to stop by and find out why so many homes have been transformed by Rino's Woodworking.
Todd Zahra
Just wanted to say thank you for matching the old handrail that I had sent you for you to duplicate. Perfect match! Thank you!!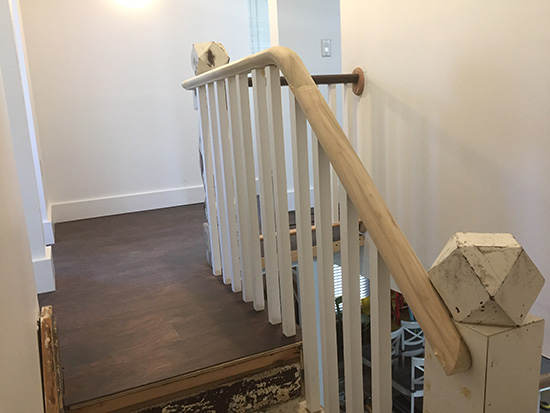 Nick Schilling
You provided a quote on exactly what I drew and did not try to tell me that I was wrong to ask for anything. I did not get that from the other vendors that I talked to.
You did a great job running the molding. The wood that you used was obviously carefully selected because the molding is straight and it stacks well. I know that I am not going to struggle with it when I start working with it.
Bottom line, I am VERY HAPPY. YOU ALL DID A GREAT JOB! I hope that you share this with your shop people because you clearly have some really good folk on staff. It takes a lot of talent to run trim this well.