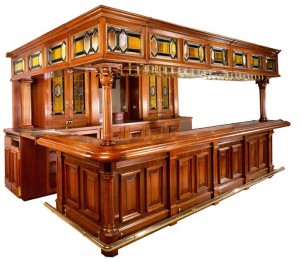 These days, it is becoming quite costly to go out and have a fun evening, and a lot of people are finding that they are staying home a lot more often. Just because you stay home doesn't have to mean that you can't still have a great time. A lot of people are having their own home bars built, so they can have their friends over and entertain at home, where it is a lot less expensive, and a lot safer because guests can stay overnight rather than take the chance of drinking and driving.
If you have decided that you would like to have a home bar of your own, there are all kinds of great home bar ideas you can use to give you a bar that you will love to use for all of your entertaining.

Home Bar Ideas for Great Entertaining
If you have decided that you would like to have a bar, you are now probably trying to decide what you want your bar to look like. You may have some woodworking skills, and would like to do at least some of the work yourself. For some really great bar ideas, especially on how to build them, there are all kinds of great websites you can visit. Check out http://www.ehow.com/list_6128661_ideas-home-bars.html, where you will find some great information about different styles of bars, including those that are made with women in mind.
There are all kinds of things to learn about when you want to have a bar in your home. For example, what type of countertop do you want? You can find information about this at http://www.ehow.com/list_6332152_ideas-home-bar-tops.html. And to learn more about the materials used to build home bars, and tips about where to set it up in your home, you can visit http://www.buzzle.com/articles/home-bar-ideas.html.
Other things you will want to learn about are color coordination, bar stools, accessories and other little things like these. Here is a link to an article that will give you all kinds of great home bar ideas for decorating, lighting and a whole lot more: http://ezinearticles.com/?Home-Bar-Design-Ideas---Make-Your-Home-Bar-Design,-Exciting!&id=703997. Or, you can also get some great ideas and tips at http://cocktails.about.com/od/stockyourbar/Creating_Your_Home_Bar.htm, or at http://www.home-designing.com/2009/09/home-bar-furniture-ideas, where there are links to all kinds of terrific articles about creating your own home bar.
If you like any of the ideas you find, and would like to incorporate them into your home bar, the experts at Rino's Woodworking can do it for you easily. Have the home bar of your dreams built by experienced woodworkers who use only the highest quality materials possible, including beautiful hardwoods and moldings that will finish off your bar perfectly. For more information about having a bar built for your home, you can visit the Rino's website at www.rinoswoodworking.com.