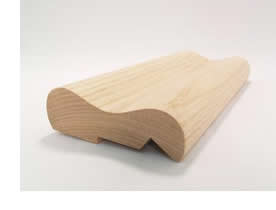 After you have finished the basics of your home bar project, it will be time for you to really put your woodworking skills in the spotlight and let them shine. Or, barring your own skillful touch, it will be time for you to put the expert craftsmen at Rino's Woodworking to work and then take the credit for it later; your choice!
The basic bar has been built, and now it is time for the bar moldings (commonly called bar rail) - and sometimes spelled bar mouldings - to be considered. But, you may wonder, what is a bar molding and why do you need it?

A bar molding is the lovely piece that is rabbeted around the edge of a bar to give it that finished, seamless appearance. It will cap off any joinings that are made in the construction of the base of the bar; for instance where the bar top is fitted and installed. It smoothes off any of the rough edges that are known to snag clothing or scrape elbows, definitely not a nice thing for your home bar to be doing to friends and family when they come to enjoy your hospitality!
Look at the rooms in your home - especially if you have ones that have crown molding and those that do not. See how much more put together the ones that have crown molding appear? How nicely finished they all seem to be? How much more elegant and attractive the final impression is? That is the benefit of the crown molding, and bar molding can do the same thing for the appearance of your home bar.
It does not matter if you will have five people visit you a year, or plan to have parties every weekend. It really does not matter if you never have another living soul come to see this home bar project that you have worked so hard on. You completed it for a reason, and you want it to be done right. When you bought the first set of materials for this bar, you surely did not say to yourself "gee, I sure would like to half build this and have it look mediocre for years and years to come. I hope I can feel semi-proud of myself, when I am done".  Surely your vision was more of a gleaming bar with all of the finishing touches that took it from amateur to professional and surely you want it done correctly.
Choose Rino's Woodworking for quality and versatility
Regardless of the type of wood you need, or the length and width of the piece you need, you can order it from Rino's Woodworking and have it come out beautiful. Instead of trying to learn how to cut special angles and learn to use tools you really never heard of before, you tell us what you want, the size and the type of wood and then install the finished piece. We can even create curved bar molding if you desire.
Rino's Woodworking can custom create your bar molding for you out of red oak, white oak, poplar, white maple, cherry or mahogany as well as other hardwoods not listed. If you can dream it, Rino's can create it for you.