If you are tired of staring at the same old walls day after day, there is an easy solution that can transform a boring room into a stunning masterpiece in as little as a single weekend.
Crown molding is a decorative type of trim that lies flush along the upper portion of a room's walls where they meet with the ceiling.  It is available in many styles that suit every kind of decor and we offer attractive pricing options as well. Installing crown molding as a weekend project is a great idea for homeowners who want to spruce up their homes, without spending a lot of money.

Types and Styles of Crown Molding
Crown molding is sold in lengths, normally by the piece.  Some types are very inexpensive and lightweight; just keep in mind that if you go with a foam type molding substance rather than traditional wood, you will probably not be able to paint or stain it to match your current woodwork which is not ideal. This type of molding is also much less durable than the quality hardwood crown molding that we supply at Rino's Woodworking.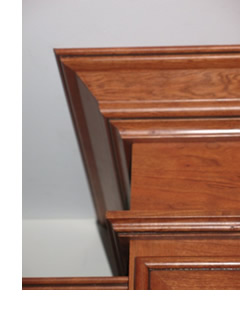 Wood crown molding is available in everything from simple cornice or chair rail styles to extremely ornate architectural molding.  Most people who choose to install crown molding on their own, go with a simpler style since it is easier and more forgiving to work with.  A little spackle can help cover up any errors, and if you use hardwood crown molding, you can paint or stain it as you like.
In addition to style variations, there are obviously various wood types available.  Different projects call for different colors of crown molding, and you can buy your wood already finished.  It is common in homes to find crown molding in white, as well as in finished or unfinished wood ranging from poplar to red oak or white maple, cherry and mahogany.
Where to Use Crown Molding
You can install crown molding in any room of the house - just be certain that the type and size of molding that you choose, fits with the size and style of the room.  It is customary to use simple molding in rooms that need a lot of cleaning - the flatter surfaces make cleaning corners easier, and they add a finished look to even the most Spartan of bathrooms.
It is common to use more elaborate architectural molding in living rooms, dining rooms, studies and bedrooms - if you have a certain periodic style preference using the right kind of molding can give your room a well planned, artistically balanced look.
Tips for Buying and Installing Crown Molding
As you shop, keep in mind that it should not take away from other elements in the room; rather, it should tie everything together and make the room seem finished and inviting.
Before you buy, be sure to measure your room - measure it twice to be sure that you get the correct measurements.  Make a note of the length of each wall, and account for any interruptions, like chimneys or other breaks in flat walls.  Make an accompanying drawing, and bring it with you if you're planning to come visit our showroom, fax it, or email it to us over the internet for our advice.
Shopping for the right crown molding should be easy and painless so consider stopping by our showroom where our staff will be more than willing to help you select the right molding for your next project.
When you receive your molding, hold it up to the wall to be sure that you will be happy with the way it looks.  You should probably get a friend or two to help with installation, since the long pieces can be unwieldy.
Be sure to research best practices on how to install your new crown molding if you're inexperienced.  After just a little work, you will be ready to sit back and enjoy your new crown molding and the beauty and elegance that it can evoke in a room!