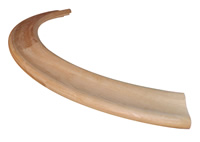 If you're looking for custom curved bar rail and curved wood molding you've come to the right place. Commonly known as Chicago bar rail, the wood's gently-shaped profile adds a classic tavern feel to any bar while keeping spills contained on the bar top. Rino's Woodworking specializes in custom bar rail that can be designed to your exact specifications. We supply beautiful curved bar rail moldings that are created with the greatest attention to detail and quality. Our curved bar moldings can be made of any species of wood - including Poplar, Red Oak, White Oak, Cherry, Mahogany and rare and exotic woods at your request. We use only the finest kiln dried wood for our bar rail and moldings and our curved bar rail moldings can be shipped nationwide.
Why you should use curved bar rail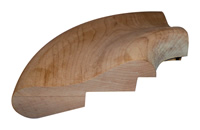 If you're designing or building a custom bar for your home or have an project that requires a high-end look inside our outside your home, custom curved bar rail can give you a beautiful finished look instead of the standard pointed corner that comes from a simple miter cut and connecting two straight pieces of bar railing.
Are you looking for a compliment to your beautiful bar? We're also able to create any type of curve you desire for windows, doorways or arches in your design. Our most popular request is for half-round moldings, elliptical moldings, eyebrow moldings and ovals.
Please contact us today to discuss your next project and how we can help you create something special. Rino's Woodworking Shop, Inc. always pledges that no matter what specialty service you need, you'll receive the same superior level of pride, flexibility, craftsmanship and attention to detail. There are no limits to what you can build; if you can dream it, we can help you build it.