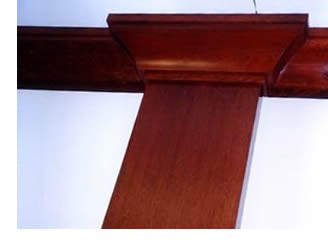 Installing crown molding is a great way to give any room a finished style in a very short amount of time.  Hardwood crown molding can add classic style that speaks volumes about your own unique tastes; and it complements other furnishings, without being overbearing.
Cherry is a wonderful hardwood choice for crown molding and other interior hardwood finish pieces.  It develops a rich patina as it ages – you can have your cherry crown molding stained, or you can leave it unfinished and let time take its' course.
About Cherry Wood
Cherry wood is a very popular hardwood that is used for making all types of furniture and it's used in many high end finishing jobs from interior residential woodwork (like crown molding) to the bar rail and décor at the local pub.  It has a pinkish – yellow look when first cut, but that - changes to a deep, reddish brown hue as time goes by. The changes that occur to cherry wood depend very much upon the amount of natural light it is exposed to, as well as the type of finish the wood receives.  Fresh cherry wood can be treated with a specially tinted finish that can make it appear to be well-aged wood. Cherry wood is light, strong and stiff; and it is a good choice for crown molding if your décor is based on certain types of furniture:
Colonial – Many colonial woodworkers liked to work with cherry wood; many antique pieces are of cherry and will be well complemented by cherry crown molding and other cherry wood interior details like chair railing or wainscoting.
Shaker – Shaker styling shows off the qualities that cherry wood possesses: very fine grain, and small distinct markings that are caused by gum pockets within the wood.  If you like this very simple and beautiful type of furniture, it is likely that you already have some cherry pieces in your home; so it stands to reason that cherry hardwood molding will work well with what you already have.
Mission – Mission style furniture also showcases the wood itself rather than relying on intricate carving – the particular glow that cherry wood tends to have lends itself to this type of furniture, as well as to craftsman furniture.  Cherry crown molding and other rich cherry details can be a perfect backdrop to these styles.
Whether your furniture is new or heirloom, new cherry crown molding can enhance the way it looks; and it makes the atmosphere of your home even more inviting.
How To Use Cherry Crown Molding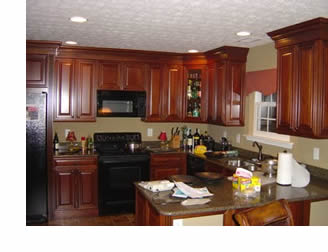 Cherry crown molding lends itself to some spectacular uses throughout the home.  In living rooms, dens and libraries, you can use crown molding alone, to give a finished appearance.
Adding it to existing pieces of furniture, especially very tall pieces, can help to tie an entire look together.  Since cherry crown molding is available in so many styles, profiles and widths, it is easy to find exactly what you need, to give your rooms a classy yet relaxing feel.
Another wonderful place to use cherry crown molding is in the dining room or kitchen.  If you love the look of cherry and have installed cherry cabinetry, then adding cherry crown molding to your room will give it an extra touch of class.
Finally, this species of molding is a great choice for bedrooms.  The very soft, deep natural color of the wood is relaxing to look at and holds its' special luster even in very low light.  Some of the most beautiful built-in cherry bedroom furniture (wardrobes, bookcases, and entertainment centers) would look fairly plain on their own; but when you add cherry crown molding to these pieces they become absolutely spectacular.