Red or white, oak is beautiful, as well as strong. Oak delivers more than adequate strength for molding projects, whether it is a decorative application as in crown molding or a basic oak baseboard installation. The warmth and beauty oak wood provides just draws you into the wood.
Oak, known as a hardwood, is the popular wood of choice for any molding application. Oak's features are hard, heavy and strong, easy to work with as it turns, carves and bends well. Sanding, finishing and the stability of oak wood are the reasons most woodworkers choose to work with oak.
Solid oak moldings are a very popular choice for interior trim. White oak can be more expensive than red oak and is more versatile. White oak is stronger and will stand up to weather conditions as it is water resistant. Red oak will decay if exposed to wet conditions over a period of time and is used mainly as an interior wood trim. For an exterior wood trim application, white oak should be selected.
Oaks are open-pored and generate impressive grain patterns, darker mineral veins and very small pin knots. The bold grain and color range in oak provide the character that make oak the most widely used hardwood.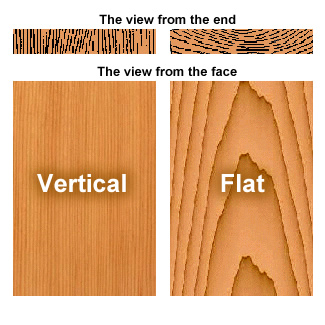 There are two basic types of oak grains - vertical grain, also known as quarter sawn or rift sawn and flat grain. Vertical grain is the finest grain. Looking at a piece of vertical grain, the rings on the board will be on a straight line and parallel with each other. The grain will be very uniform. Flat grain is the most common and is known by the arch in the rings and is the most economical grain for trims and molding.
While there are hardwoods stronger than oak, it is the most popular choice for wood molding and trim, as it is easier to work with for furnishings, trims, crown and baseboard molding applications.
Oak isn't the cheapest option in wood, but if you want quality, beauty, strength and character, you will get exactly what you pay for when you choose oak wood for your next project.