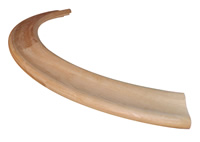 A few decades ago, it was not all that uncommon to walk into someone's home and find a bar, usually in the living room, rec room, or basement. This is something that for some reason seemed to go out of fashion for a while, but thankfully, home bars are once again back in vogue.
These days, it is not an inexpensive evening to go out for a few drinks and have a good time, and many people are opting to do all of their entertaining at home, where it is also a much more comfortable atmosphere. And these people are also finding that they are adding bars to their homes, so they can really entertain in style and have loads of fun doing it. If you are looking for something like this, you can have your home bar created at Rino's Woodworking, where you will get the highest quality woodworking at the best rates in Ohio.
There are many different types of bars that you can build in your home, but the nicest ones are the ones that are made from real wood, and have the elegant rails that you would find in some of your finer bars and pubs. One thing that is really lovely to look at and incredibly durable, too, is oak curved bar rail. This gives your bar that terrific looking finishing touch and provides a comfortable place for you and your guests to lean and enjoy some great conversation over drinks. Oak curved bar rail is an excellent choice, not only for its beauty but also for its durability.
What Is Bar Rail?
As you may have already figured out, bar rail is a decorative edging that goes along the bar top. It is most often installed on an angle, making it very comfortable to lean an arm on because it is on a downward slope. This is done by offsetting the edges of the top layers of the bar. There are so many options available and one that is really beautiful is oak. This is something that is really going to add a touch of elegance to any home bar, and at Rino's Woodworking, you have your choice of white or red oak, both of which are extremely beautiful and durable.
White Oak Hardwood: This is a wood that has been used for barrel making in the past because it does not leak. This is the state tree of Connecticut, Illinois and Maryland, and it can be found throughout the Eastern United States.
Red Oak Hardwood: This is an incredibly strong wood and has been used for making railroad ties, wheels, plows and more. It is found in the Eastern United States, and the height of the average red oak tree is 60 to 80 feet.
If you are thinking about having your own home bar for entertaining and live in Ohio, see what Rino's Woodworking can do for you. Whether you are looking for something really fancy with oak curved bar rail, or just want something simple and functional, they can build it for you. Learn more by visiting the website at www.rinoswoodworking.com.