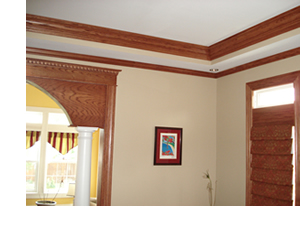 While oak is a very popular, high quality hardwood that is popular for furniture and other home accessories, many people may not realize that there are many styles of oak crown molding that can finish off any room beautifully.
Beautiful oak crown molding is available in finished and unfinished styles that can help to highlight existing décor, and complement any style of furniture. From basic traditional style to art deco, and beyond, you can find the perfect crown molding to add a finishing touch to the personal statement that you want to make with your home.
Types Of Oak Crown Molding Available
Durable, stylish oak crown molding is available in an endless variety of styles (profiles). If you have a room that is prone to accumulating dust, you may consider going with a flat, basic style, without a lot of embellishments; however, keeping molding clean really is not that difficult as long as cleaning is conducted on a regular basis.
Two Basic Types – There are two types of oak that are used for crown molding craftsmanship applications. Each has a different look, and each has specific features that can help you determine which is better for your home.
Red Oak Crown Molding – Red oak is a pale, reddish brown wood with a distinct graining pattern and lovely, dark mineral veins. It is less expensive than white oak, and although it is possible to find furniture made from red oak, it is not as commonly found as furniture made from white oak, since white oak is more durable. Red oak finishes and stains very well.
White Oak Crown Molding – White oak is a more tightly grained hardwood that is used in all types of furniture and interior finish fabrication. White oak is a great choice for intricate crown molding design and it is easy to find white oak furniture at many retailers. Although it costs a little more than red oak, it is a higher quality wood.
Many Styles To Choose From – Oak crown molding is available in styles that will suit any décor. It is easy to find finished or unfinished oak crown molding in many different profiles. Here are some very popular styles – the more you look, the more adventurous your own sense of style may become, and the more individualized your home will be!
Decorative hardwood molding can be found in simple, flat profiles to complement old-fashioned, shaker, or minimalist furniture styles. It can of course be painted or stained to make even more of a statement.
Many people prefer the look of specially milled decorative hardwood molding. Botanical motifs are becoming more popular, but classic styles are still a great choice. Carefully consider the other elements you plan to add to the room you want to install oak molding in – this may help you to make the perfect choice. If you need help selecting the perfect style, retail specialists have plenty of experience and can help you to choose just the right molding.
It is easy to install your new oak molding – in fact; molding installation is a great choice of home improvement project for beginners. Just be sure to measure carefully, and always measure twice before you cut anything! Get a friend or two to help out, and remember that you can find accent pieces that can help make installation even easier.
Oak corner blocks, plinth blocks, divider blocks and rosettes can help give your room a professional looking finish, plus they can eliminate the need for mitering corners or coping rounded joints. You can probably complete your crown molding installation in a day – and give your room timeless appeal in the process.