For those considering, or just getting started with a remodeling project, we thought it would be a good idea to briefly walk through the options for baseboard wood molding and what it's used for.
To get started, lets look at the various options and concepts:
Baseboards & Base caps: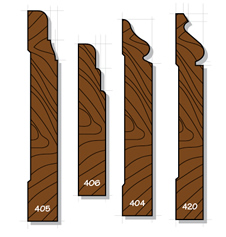 To get a nice, finished look to the bottom of your wall - the area closest to the floor - you need to consider several things and that starts with the baseboard. When choosing your baseboards you need to choose the wood type, the style and you need to choose the height.
At Rino's Woodworking we offer many wood types and styles of baseboard to choose from but there are reasons for making certain choices. First, the wood type should match the other wood in your home if possible. Choosing a matching stain is another important task. Next, you'll want to determine the appropriate height of the baseboard. Normally you'll choose a larger height if you have high ceilings in a room. You may also choose a baseboard height that is thicker to achieve a higher end look - but you shouldn't go overboard. Plan to keep your baseboard height in sync with the overall scale and height of your room. One of the most popular sizes used in the United States for baseboard height is 9/16 x 3-3/4 so this is a good place to start when choosing the appropriate baseboard height.
Depending on your budget you may option to choose a baseboard height that is a little higher than the average to add a more higher quality look to your room. You'll be surprises as to how a thicker baseboard can enrich the overall feeling of a room. Again, don't go overboard and keep it reasonable based on the size of the room.
Shoe and cove molding
To finish off the wall and to create a "finished" look to the job, you should consider either a shoe or cove molding style. This molding gives you the final touch that delivers a unique, high quality design to your wall. It generally comes in two shapes which are the traditional shoe molding and quarter round but at Rino's we offer many styles of shoe and cove molding - several are shown to your right. Shoe molding can be used either standing up tall or laying flat on the floor to give a wider appearance. Quarter round is a thicker finishing piece and can only be used in one direction.
The shoe mold provides an easy way to eliminate gaps and shifting in the wall and floor and it can help to protect your baseboard from chairs, vacuums and other wear and tear over time. Since the shoe molding is smaller, and therefore a more affordable element of your wall, it's easy to remove and replace as the years of wear add up or if you decide to change the style and color of your floor.