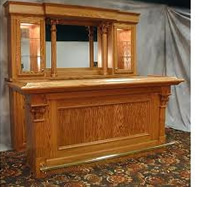 There is something so very personal about building your own wood bar, but when you can honestly say that you not only built it, but designed and then installed it yourself, that is something that is truly special. From the very beginning of your vision to the moment you run your hand over the perfectly sanded, smooth and glossy wood, there is nothing to compare to that feeling of accomplishment and satisfaction.

Designing a Wood Bar
Of course, before you can do anything at all, you have to have a vision of the design for your bar. You have to be realistic about the size and shape based on the room where it is going. For instance, when you install your bar, will you have to modify or change the flooring at all? How will you stabilize and secure it? You will also want to consider the actual size of the wood bar you are designing- not only its height but its width and its eventual weight as well. The more wood you use, the heavier that bar is going to be and the more support you will need.
After you get the design in mind, put it on paper. If you are at all worried about the size or shape, cut a piece of cardboard in those dimensions and have a look at how it works with the floor plan and the flow of the room and make final adjustments.
Building the Wooden Bar
After your design is complete and you have your dimensions, it is time to select the wood that will work the best for your project. You will need a quality piece of wood, custom cut into the right shape and size for your project, a task you can trust to Rino's Woodworking, which can cut the wood of your choice. The wood at Rino's is all high quality hardwoods, from mahogany to cherry, maple and pine. You know the vision of your wood bar, now you can watch it be cut perfectly to order.
After you get your custom cut wooden bar, you need to make sure that you are following the rest of your design for safety and for the functioning of that bar. You want to make sure that the bar works as well as it looks.

Enjoying Yours
After you have taken the time to design and build this wooden bar, it is imperative that you protect it from harm. Choosing whether to seal or simply stain the bar is only the first step. You also need to choose the way that you clean the bar on a day to day basis and consider how you would do a deeper cleaning. During the design and building phase, you looked at the pros and cons of each type of wood- so you know how to care for the one you choose for your wooden bar.