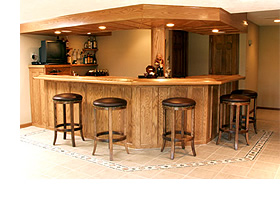 Tired of the crowds and the rules imposed on them, many people have turned to building a home bar. There, they can drink what they want, smoke if they choose to do so and listen to whatever music makes them happiest. They can invite their friends and neighbors, or they can simply enjoy this space for themselves. And they can make their bar design as big as the space will allow or keep it to a smaller, more elegant set up. No matter what size they use, a bar is never going to look as put together or as complete without a bar rail.
For those who are not sure, a bar rail is the slanted or sloped area where you prop your elbows. It is functional as well as attractive and can be made of a number of different wood types.
When choosing the wood for yours, there are several things you should keep in mind. You should understand that if you use substandard wood, you are going to get substandard results. And you should know how the pros and cons of all of the available woods. At Rino's Woodworking Shop, Inc, not only are there a number of choices of high quality woods, there are suggestions for finding the right choice for you and your own needs. You can rest assured that you will not find lower quality, substandard wood here at all.
A bar design is not always cookie cutter - there are those who have visions that take them beyond the design book templates. They may need something more than a straight piece of wood that is slightly sloped or beveled - after all, if you are a designing a unique home bar for your home, then you will certainly need a unique bar rail for that bar as well. Bar design should be as special as the room in the home where it is going to be built.
Another thing to consider when designing your home bar: will you be staining it, clear coating it to give the wood some protection, or will you paint it to be more unique. Your answer to that question might change the type of wood that you choose to use. If you are not going to let the natural beauty of the wood shine through, then you might use a different type, but still want one with the same performance abilities. You might not want to go with mahogany if you are just going to paint it right from the start.
Finally, make sure that you are sure about the bar design and the measurements because while you can custom order any size or wood that you want at Rino's Woodworking, we can't guess or anticipate what you may or may not need once we cut it for you. Remember the old adage: measure twice, cut once? It also should be measure twice, order once.