Setting up a home bar is more than just slapping a piece of wood on a few barrels and putting a few beers on top of it. Many people install real bars in their homes, often with all of the bells and whistles to go with them. From neon signs to the wide assortment of liquors and other potables, there are plenty of things that you can add to your bar to make it even better. One thing that you may not come up with off the top of your head is the bar rail. Sure, you may not even know what that is or why you need it, but that is about to change.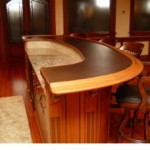 A bar rail is a decorative piece that is placed along the edge of the bar and is meant to give it a finished appearance. Technically you don't "need" a bar rail, but then again who really "needs" a home bar in the first place? If you are going to have one, it might as well be done the right way.
How Do You Choose a Bar Rail?
A bar rail is supposed to fit flush with the bar itself, so your installation should be complete before you buy a bar rail. A standard bar will give its dimensions, but as most do it yourselfers are aware, those are not always the measurements that you will end up with once the item is actually in place. Install the bar's base and top and then re-measure once again to take into account that weird angle thing or any other strange adjustment that you have had to make. Those measurements will be used to determine the right size for the bar rail that you need.
The Right Wood, Grain and Finish
The bar that you bought and installed says "white oak" so you go to buy a white oak bar rail. The bar rail at the woodshop that you are in looks wildly different from what you are thinking is installed at your house. Photos, especially those on your cell phone are not really helping. You need to have an actual wood sample so that you can match up what is in place for the type of wood, the wood grain and the finish. Wood, because it is a natural product, will often have variations but the samples that you have should give you a solid idea of whether the two woods will work together. You can use a cheaper wood for the bar rail and then finish it to match the base, however, keep in mind that the cheaper woods will have an increased risk of splitting under wear and tear. If you entertain once or twice a year, it will not matter as much, but if you are an every weekend party thrower, you need wood that will stand up to this level of use.
Rino's Woodworking has six types of wood and can custom cut your bar rail or other decorative wood parts. All that you need is the right measurements and the design that you are trying to accomplish and you are set.