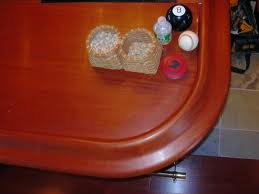 Have you been thinking about adding a home bar to your entertainment room? Many people are doing that these days. It can be a lot of fun to entertain at home and a lot less expensive than going out, and when you have a beautiful entertainment area with a bar, you can have all of your friends over for good times whenever you want. Now, once you decide that you are going to have a home bar, you need to figure out how you want it to look. Of course, it should match the current décor of the room, unless you plan on completely redecorating. And you will want it to be durable and beautiful, so you need to make sure that you use only the best of materials. One thing you may want to consider adding is a mahogany bar rail.

Why Do You Need a Bar Rail?
Having one not only adds the final decorative touches to your home bar, it also provides a function. It is usually installed on an angle, and it makes a comfortable area to lean on so you and your friends can gather around your bar for good times and great conversations. Basically, a bar rail is a piece of decorative wood that goes the entire way around the outer edge of your home bar. It is curved on the outer edge and squared where it meets the bar top, and it is a beautiful way to complete your home bar.
Why Mahogany?
Mahogany is a rich and beautiful wood that can add a touch of elegance to any room. When you use it for a mahogany bar rail, you will have a lovely bar that is as attractive as it is functional. Mahogany can be found in many places around the world, and mainly grows from southern Mexico to Brazil. Mahogany is a lot lighter than you may think, but it does tend to darken over time. This is a very durable wood and ideal for creating beautiful mahogany bar rail.
Mahogany has excellent properties for woodworking, and can be made into a number of beautiful items. It is strong, and is very resistant to decay. And mahogany is also resistant to termites. The grain of mahogany is usually straight, but it can also be wavy or even curly and can have a fine to coarse texture.
If you have decided that you are going to add a home bar to your entertainment area, and would like to add a touch of elegance with mahogany bar rail, you can have it built by the expert craftsmen at Rino's Woodworking, who have practiced their trade for decades and can create the home bar of your dreams. If you enjoy woodworking yourself and have the tools and equipment needed to build your own bar, you also have the option of purchasing the wood from Rino's, and you can create your bar yourself. For more information, you can visit the website at www.rinoswoodworking.com.