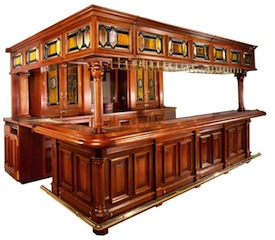 If you are thinking about having a home bar installed, there are a lot of things to consider, including the type of bar rail you plan to use to finish the look of your home bar. You should look into doing it yourself rather than calling in a contractor, as this is actually a fairly easy job to do, and you can save yourself a lot of money by doing it yourself. When it comes to getting the best supplies for your bar, including decorative and functional bar rail, Rino's is the place to go. They have bar rail in a variety of woods, and it can be cut to specified lengths depending on what your needs are.
Choose Your Style
The first thing you need to do is decide how you want your bar to look. There are many different styles of bars, and a variety of bar rail styles you can use to create the ultimate home bar. Not only do you have to choose the right style, you also need to choose the wood that is going to best suit your design and color scheme. Rino's Woodworking offers a number of options for types of wood, including:  
Poplar
Red Oak
White Maple
Mahogany
White Oak
Cherry
Other hardwood species available on request
At Rino's, you can save yourself a lot of work by ordering the exact lengths that you need. This way you will have just the right amount of bar rail for the job, and you won't have extra left over or end up not having enough to work with.
Getting Started
Generally, bar rail is made from one piece of wood. It is made using two offset cuts referred to as rabbets, which are grooves that are cut into the rim of the wood. The rabbets can be used to make the bar rail, the part that joins the top of the bar cabinet to the sides, as well as join to the back of the bar cabinet. There are various widths and depths available, so make sure that you have your bar planned out in advance so you will be sure to choose the right type of bar rail.
It is important that you have an unfinished bar top sitting under the actual bar top. The finished top should be offset from the top that is unfinished. This makes it easy to join the upper rabbet of the bar rail to the bar and give it that finished look. Sometimes the angle or area cut between the rabbet joints is too long. To compensate for this, simply add a shim or and additional block of wood for support. This should be placed at the upper rabbet, then attached to the completed bar top.
Before you go out and hire a contractor, go online and check out the many videos on how to build a home bar. Then, head to Rino's Woodworking to get the best bar rail and other woods to complete your project.