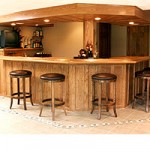 When you decide to add a home bar to your home, you might already have a vision in mind or you may need to find home bar designs to give you some inspiration. But where do you find these designs and what should you look for?
Home Bars That You Have Admired
Think about how much you love going to the guy down the street's home bar. It's not that his gin is any better than anyone else's. It's not that he serves the freshest peanuts or that he is all that much more interesting than the other guys on the same block. So, why then, when it came time to build your own home bar, was his the one that you thought of first? It might come down to the design and the fact that you admire that one enough to adapt it for your own space.
Home Bar Designs from Magazines and Books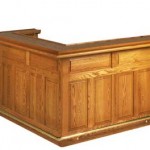 In addition to home bars that you have been to, there are a number of books on the topic that you can use, many including home bar design templates and plans. Each of these will have guidelines for sizes and dimensions as well as recommendations for the wood that you are using. Remember a home bar design should be partly your own, so if you would like to adapt the bar's design for a different size or a slightly different shape or you would prefer a different kind of wood than what is suggested, then it may be possible. Before you completely rule out the changes that you would like to make, talk to the experts at Rino's Woodworking Shop and see if they have suggestions. No matter what size, style or species of wood that you would like, they can custom cut it for you and have it shipped right to your door.
Home Bar Designs from the Internet
You can also find designs and templates from a number of sites online; some even have plans that can be purchased for home use. Again, these sites will have suggestions for size and dimension of the final design, which may or may not work for you, and they will recommend one type of wood over others. Treat these as suggestions or hints rather than law and they can be very helpful.
Home Bar Designs from Your Own Mind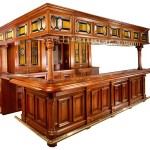 Finally, some people have the vision of their home bar in their mind's eye. They can get it drawn out on paper but may not be able to come up with the dimensions or the beginnings of the lay out. You want your piece to have your full vision, but you also want it to be built safely and correctly. You may be able to get some suggestions from Rino's Woodworking Shop for the sizes and placements of angle and joins so that your home bar is a beautiful, durable and fully functional work of art for years and years to come.  To get you project underway, call Rinos at (440) 946-1718 to order your bar rail or simply order online now!