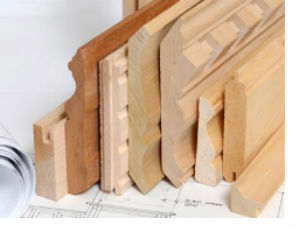 When you are building a new home or remodeling the one you've been living in for years, it is the finishing touches that make all the difference. One of the best ways to ensure that your home reaches its full potential is to include hardwood molding. If you are in Ohio, Rino's Woodworking Shop, Inc. can meet all of your hardwood molding needs.
Most home owners take pride in their home. You want the best. That's where custom molding comes in. Mass produced molding will never live up to the craftsmanship of custom molding made from only the finest wood in the world.
Which woods are hardwoods?
Not all woods are created equally. For hardwood moldings, you will find that the following woods are typically best:
The oaks are normally used for baseboard while mahogany is often found in crown molding.
Types of Molding
There are many different areas of your home that require or can use molding. Crown molding is found at the top of the wall where the wall meets the ceiling. It can be quite ornate. At Rino's Woodworking Shop, Inc. we have the experience to create a wide selection of crown moldings to fit even the most elegant of settings.
A chair rail runs around the walls of the room at about three feet from the floor. In the past, it was traditionally used to protect the wall from being rubbed by the furniture in the home. Now days, it tends to be used for aesthetic purposes.
Baseboard runs around the bottom of the wall where it connects to the floor. Its main purpose is to cover the joint between the floor and the wall. Baseboards give your room a nice finished look especially when added to a room with crown molding.
Additional types of custom hardwood moldings you will find at Rino's Woodworking Shop, Inc. include:
A Little about Rino's
Rino's Woodworking Shop, Inc. was founded in 1982 by Rino Ritosa. His background in European style woodworking gave him the desire to create old world charm in the new world. High quality and attention to detail is what's most important, and you will find it in every molding Rino's creates. From large orders to small, the quality always shines through.
Rino's is a family owned business, and as such, realizes just how important your home is to you and your family. It should be a place where you find yourself surrounded in comfort and beauty.
If you live in Ohio and are looking for hardwood molding, give Rino's Woodworking Shop, Inc. a call, or stop in for a visit. Our staff would love to show you exactly how we can help you create the finishing touches you have always dreamed of for your home. So, don't wait – call or come in today.