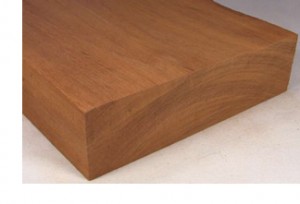 Are you living in northeast Ohio and plan to have some work done on your home, perhaps some custom woodworking? Do you know what type of wood you would like to have as trim and cabinetry throughout your home? Hardwoods are always an excellent choice, both for their beauty and durability, and mahogany is a very popular option. When you decide that you want to have custom woodwork done in your home, you need to make sure that you hire expert craftspeople who take pride in their work and use genuine mahogany lumber. You need to see the professionals at Rino's Woodworking Shop, Inc. All moldings are unique in their design and made from only the finest wood in the world.
What You Can Have Done with Genuine Mahogany Lumber
At Rino's Woodworking Shop, Inc., you will find craftspeople creating custom wood molding from genuine mahogany lumber, and there are many things that you can have made that will look amazing in your home. Have beautiful hand rails created for your stairways, and you can even have lovely bar rails made. Don't forget about crown molding, casing, baseboard, panel molding, and many other types of molding that the professionals at Rino's can create just for you. Once you place your order, your molding is created and then shipped to you for easy installation. Or, if you like to work with your hands and want to get a bit creative, you can create your own molding from what is available at Rino's.

Not All Genuine Mahogany Lumber Is Created Equal
Mahogany can be found in many parts of the world, and not all trees will produce the same grade of wood. For example, you can go to many woodworking superstores, where you can find all kinds of great deals on mahogany, but, when you are getting it for such a good price, are you actually sacrificing on the quality of the wood? At Rino's Woodworking Shop, Inc., you will find nothing but the best genuine mahogany lumber available anywhere, and even if it does cost a little bit more, you will definitely notice the difference in the quality of the wood, as it will have a much better appearance than wood purchased at a cut rate. And you will have the satisfaction of knowing that your woodworking has been custom made, and the design is unique and one of a kind.
There are many things that can differentiate different types of wood and even different types of the same wood, and sometimes, it can be confusing, especially to the average person who does not know a whole lot about woodworking. If you would like to learn more about genuine mahogany lumber, and the products and services available from Rino's Woodworking Shop, Inc., you can visit the showroom in Willoughby, Ohio, located at 36475 Biltmore Place. Or, you can also visit the website, where you can do all of your shopping online, at www.rinoswoodworking.com.