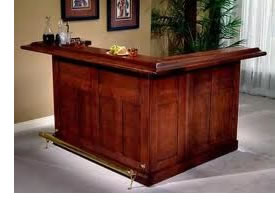 Whenever you are doing any kind of project, you have two major choices. You can use the pre-made items that may or may not fit the bill of what you are looking for or you can demand only the best by custom ordering the exact bar molding that you want to have. If you would be satisfied with what other people have created, the former is just fine. If you have discerning tastes and the vision for what your bar molding is going to look like on your finished home bar, then it is custom for you, all the way.
A custom order bar molding is more than just an attractive way to finish your home bar. It is a statement about what you will accept and what you will not. Ordering this way allows you to design your bar so that you are not stuck with the same size, shape or shade of bars that everyone else on your block has. Imagine that you have a sudden inspiration for the area in your basement, a triangular shaped bar comprised of two converging bar tops that meet in the middle and allows bar stools to face each other for easier conversation. You don't just walk into the neighborhood hardware store or the big box do-it-yourself store and find those items on the shelves. You might have some choices in these places but you won't find exactly what you were looking for.
Another advantage of custom ordering your choice in bar molding is the ability to marry the right species of wood with the right stain and appearance. The pre-made bar choices might have a very limited selection, a few of the most popular hardwoods and perhaps a few softer wood types but only in the most common colors and shapes.
Standard sizes are kept on hand because they make more sense. Why cut a nonstandard size if there is a chance that no one will ever really ask for it? You might save a few dollars on buying one of these standard bars, but not always. In fact, after you factor in the work that you will have to do to make it fit in the space and to give it the right appearance, then you may find that you have far more money invested. And after all of that effort, can you really say that this is the exact bar molding that you were looking for in the first place?
Never settle for the second best or the second choice in your home. Always get exactly what you want whether it is the color of the walls in the bedroom, the carpet in the dining room or the bar molding in your personal home bar. You work hard for the money to pay for these things, so you always want to be able to enjoy everything that you have. Don't just take what you find, ask for the custom ordered bar molding that will be perfect for your project.