There has been some question regarding the spelling of the word "molding". Why does it sometimes appear without the "u" in the word? Can this be explained rationally? Why, yes it can. Here is a very short history: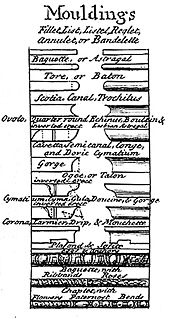 Woodworking can be considered one of the world's oldest art-forms. Therefore, the art and craft of forming wood in America has deep roots in England and far beyond. In the English speaking world, carpenters turned into cabinet makers and on through the process of everything "wood". Eventually people looked for ways to improve their surroundings and to define and differentiate themselves from others. They also had money and resources so the concept of decorative woodworking evolved. This is where wood moulding enters the fray in homes and furniture making.
The idea of mouldings goes back much farther, and, as stated in Wikipedia "At their simplest, moldings are a means of applying light and dark shaded stripes to a structure or object without having to change the material or apply pigment. The contrast of dark and light areas gives definition to the object ... Together, these basic elements and their variants form a decorative vocabulary which can be assembled and rearranged in endless combinations. This vocabulary is at the core of both Classical architecture and Gothic architecture."
As you'll notice, I use the word "moulding". This version of the word is older and it originates in England, Australia and Canada and therefore will sometimes still be used in the northern United States, or, by companies who wish to preserve their "Old World" heritage in their company name.
Wood molding is actually the proper spelling for referring to the product in the United States and how we present the term on our site.