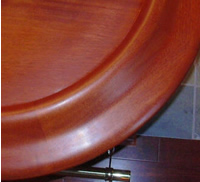 Many people may wonder if they really need a bar railing to install on their home bar. The simple answer is: it depends. If you like the look of an expertly finished and classy bar, then you do need one. If you want to keep things more simple and casual looking, then you may not need to have one. The bar railing itself lends an additional design layer that takes your home bar to the next level.
A bar railing is the edging that goes around the length of a bar, usually offset so that it has a downward angle; it is the piece where people rest their elbows. If you plan to have a railing, it is best to include it in the final design before the first piece of lumber is cut to make sure that you have the right dimensions for your finished overall piece. The piece may add a little bit to the width and the depth, depending on the size, the angle and the installation of that piece. Remember, you are not restricted when choosing; you can choose to omit it if you would like to or you can make the bar railing the focal part of the bar.
Another option that you should keep in mind is the choice of woods that you have for your home bar. For many people, the choice is simple: they will use the same wood that they built the bar itself from. Other people, however, will use a contrasting or complementary wood for the dramatic effect. It doesn't matter which side of the design fence you fall onto, the wood crafters at Rino's Woodworking Shop will not only create the perfect piece for you, they will create it out of high quality, unblemished woods in your choice of finishes.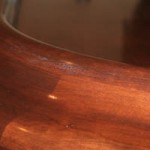 While you are looking at bars, bar designs and the various types of bar railing, you may also want to think about the installation and finishing hardware that you will need for that item. Bar rail is more than just a finishing piece, it can be the beautiful jewel in the crown of hard work that you have put into this personal space. A man or woman who spends free time building and perfecting a home bar is not going to be willing to just tack any board up to it at the end of that time and effort. They want something of equal beauty and grace, high quality hardwoods that not only look beautiful now but will stand the test of time as well.
Rino's Woodworking Shop is not only your source for high quality woods in a number of standard lengths, but is also your best resource for custom ordered pieces as well. In addition to getting the most beautiful pieces of lumber that are expertly turned into your vision of the perfect bar railing, you can also learn about how to care for it so that it is beautiful forever.