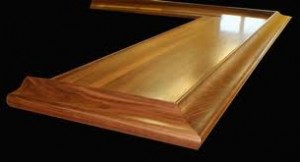 When you are creating your home entertainment area, if you plan on doing a lot of entertaining, you really should consider adding a bar to the room. Not only does this add a touch of elegance to any room, it is also very functional and useful. When you have a bar in your home, you do not have to go out to drink and have a good time, which can become pretty costly, depending on where you go and what you are drinking. And when your friends are drinking at your home, you have the option of having them stay overnight, so they do not have to drink and drive.
If you are adding a bar to your entertainment room, you need to think about the design and how it is going to work with the room, and the materials that you are going to use to build the bar. Don't forget about the finishing touches too, because that is what makes the whole thing come together. One of the things that you really need to complete your home bar is bar rail molding, and you can have it made from a number of quality woods that will complement the décor of your room nicely.
If you have ever been in a bar, you have probably noticed that the bar itself is usually pretty fancy and well built, and often made from quality hardwoods. Bar rail molding was once known as Chicago bar rail, and it performs a number of functions, making it not only decorative but a necessary addition to any bar. When you have it, you have a comfortable place for people to rest their elbows, so they can lean back and relax while they have a drink and enjoy some great conversation.
Anywhere you want to add a touch of decorative wooden molding, you can use bar rail molding, which is going to add a touch of elegance to any room. It looks lovely as the finishing touch to many rooms in your home.
When it comes time to building your own home bar, make sure that you come to Rino's Woodworking for all of the quality lumber you will need to get the job done right. You will find beautiful bar rail molding made from a number of different woods, from poplar to mahogany to cherry to red and white oak. If you are looking for more rare and exotic woods, these are available upon request. You can find everything you need to finish your home bar online, and Rino's will ship the materials across the United States.
If you are considering building a bar for home entertaining, and would like to use the best materials possible so you have a beautiful and durable bar, look no further than Rino's Woodworking for all of the fine moldings you will need to complete your project. You can find Rino's online at www.rinoswoodworking.com.